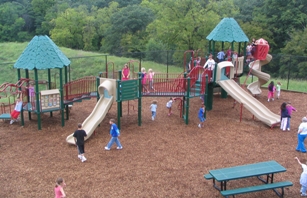 Miracle Recreation is the oldest and largest manufacturer of playground equipment in the United States.

*You will have access to the most innovative and exciting new equipment. The Multi-Pondo, Miracle's upright teeter-totter, is a recess favorite across Iowa. The new X-Wave will surely reach a similar status, and it can accommodate up to 20 kids!

*Your equipment will be covered by the best warranty plan in the playground industry.

* FINANCING options available

* FUNDRAISERS and GRANTS are available through our company

*You will choose from the largest selection of components in the industry, many which are proprietary to Miracle Recreation such as:
VERSA-LOK CLAMP SYSTEM– eliminates cluttered posts and allows two or more components to connect to the same clamp.

SKID RESISTENT deck surface

GATOR GRIP on all handrails for better gripping than smooth pipe

Typhoon slides with platform heights up to 12' high making them the highest slide in the industry

Typhoon slide platforms are enclosed with view grooves for kids to see out and parents to see in
Typhoon slides have a sidewall height of 15", the highest and safest in the industry.